---
What We Do
Each bottle is carefully hand-cut and sanded to create a unique candle. The original label is left on which adds to the individuality of the candle. There may be imperfections based on the thickness of the glass and how the glass was forged originally. Please be mindful as this is a recycled product parts of the label will not be as new and may be torn in some areas.
They make great gifts for housewarming, anniversary, or wedding presents. They even look fantastic as centerpieces for a dining room table. They are conversation starters and will add a touch of elegance to any room. The warm glow of the candle with the comforting smell of the oils allow for a moment of tranquility in an otherwise busy day.

Recycle
If you're a restaurant, distillery, winery or bottle shop within Metro Melbourne we are happy to collect your bottles. You don't have to buy anything from us in return. We can also Recycle Your Bottles into candles.
Refill
Need a Refill? We also offer refills please contact us for more information at boozysales@gmail.com
---
~~ Shipping $12.50 Flat Rate ~ Australia Wide ~~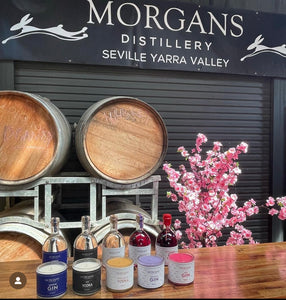 Local Partners
Our local Gin Distiller Morgans Winery & Distillery provides us with these beautiful bottles which we recycle into unique candles.
https://morganswd.com.au/